ABOUT US
Recognised as one of the main plants at an Italian and international level, the Milazzo Refinery deals with the transformation of oil to produce fuel, combustibles and raw materials. Thanks to a balanced processing capacity exceeding 10 million tons per year, it is the third largest refinery in Italy in terms of production capacity. With over 60 years of history, Milazzo refinery is currently one of the most important companies in the sector also in terms of constant monitoring, reduction of emissions and technological innovation.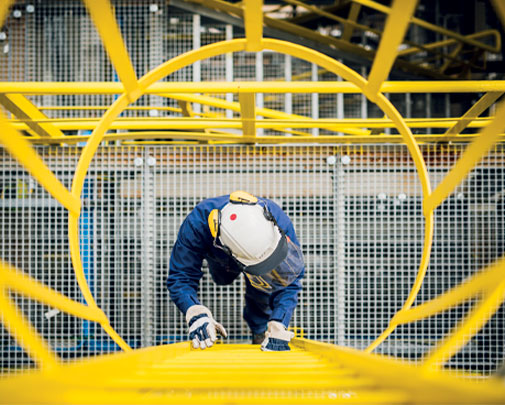 Questions & answers
Refinery torch, what is it and how does it work?
As with all refineries, even outside the Milazzo refinery it is possible to see, in exceptional cases, a flame lit on top of the plant. This is the "torch", a real "safety valve" very important for the correct functioning of the plant.
It is a pilot flame, part of a complex system that manages possible gas excesses during plant operation and diverts them towards the torch only in rare cases, which are recorded in quantity and quality, in accordance with the provisions of the 'Integrated Environmental Authorization (IEA).
Learn more about the activities of the Milazzo Refinery to protect the environment.
How does the maintenance of the refinery take place?
Fundamental to ensure the reliability and efficiency of the plants, maintenance is managed by the Milazzo Refinery with dedicated resources from an organisational point of view and procedures subject to continuous improvement.
There are three main types of maintenance strategies: predictive maintenance, which, thanks to mathematical models, allows us to intervene before a breakdown occurs; scheduled maintenance, which provides for the temporary shutdown of some plants to allow for the necessary interventions, as in the case of the "Shutdown"; corrective maintenance which concerns the repair of a fault.
Click here for further information on how maintenance is organised in the Milazzo Refinery
Why do clouds form over the refinery?
The low clouds that hang over the refinery in particular weather conditions, during the early hours of the morning, form with a mechanism similar to the one that generates clouds on the islands.
The latter is due to the motions of the air above the emerged areas, which are warmer than the sea that surrounds them.
Even an oil refining plant is an area where the temperature is on average higher than the surrounding environment. The air in the plant also has a high degree of humidity, due to its location in a coastal area, and due to the presence of cooling towers which release hot air saturated with water vapour into the atmosphere.
On the occurrence of particular weather conditions – such as calm winds and clear skies – since during the night there is a great loss of heat, the warm and saturated air begins to condense even at relatively low altitudes, giving rise to a cloud that remains motionless above the refinery plants.